Yesterday evening the first trilingual philosophy circle took place at Berufsbildungszentrum Bau und Gewerbe BBZB Lucerne. Our Danish guests discussed with us the differences and similarities of Denmark and Switzerland. Denmark is on the 3nd place of the ranking for the implementation of the SDGS Sustainable Development Goals of the UN, Switzerland on the 15th place (look HERE).

In danish schools the 17 sustainability goals are hanging on the walls. Consumers take responsibility and companies show what they contribute to achieving the goals.
Do you know the 17 Sustainable Development Goals? (look HERE).
We compared the characteristics of Denmark and Switzerland using six vital systems according to Huwiler's system analysis method: politics, law, society, economy, technology and ecology. Our topics were the tax systems, public transportation, electricity, the skills shortage, the future of the European Union and many more. 
Denmark is further along than Switzerland in achieving the SDGS. One reason for this is that Denmark, as a member of the EU, achieves a higher score on SDG17 "Partnerships for the goals".  Another reason is that Denmark has fully achieved SDG7 "Affordable and clean energy". Wind power is of great importance for Denmark and is realised on land and in the sea.
Switzerland seems to lag behind in comparison to the Danish infrastructure. In this respect, it should be noted that the Swiss population has grown from 6.8 million in 1991 to almost 8.8 million in 2022. Denmark had 5.1 million inhabitants in 1991 and 5.9 million in 2022. This means that the Swiss population has increased by about 30% in 32 years. Add to this the current shortage of skilled workers, and we can hardly keep up with infrastructure projects. 
With a critical eye, we devoted this evening to the challenges facing our two countries. We can happily say that we can learn a lot from each other. Many thanks to our guests!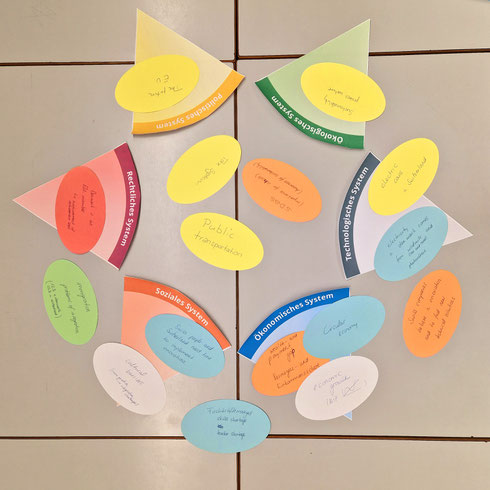 To give structure to our exchange, we applied my systems analysis method. Read more HERE.
28.04.23 Miriam Huwiler
---
Der Philo-Zirkel ist ein interdisziplinäres Angebot der BM-Abteilung am BBZB Luzern. Er wird organisiert und verantwortet von der Fachschaft W&R unter der Leitung von Miriam Huwiler. Eingeladen sind aktuelle und ehemalige Lernende und Lehrpersonen. Gerne dürfen Freunde mitgebracht werden. Der Philo-Zirkel findet seit September 2022 statt und unsere Gruppe ist unterdessen auf gut 20 Personen gewachsen.